Source Information
Blum, Isidor. The Jews of Baltimore: An Historical Summary of Their Progress and Status as Citizens of Baltimore from Early Days to the Year Nineteen Hundred and Ten. Baltimore: Historical Review Publishing Company, 1910., p. xliii
Project Information from this Source
Project name: Old Lloyd Street Synagogue
Project types: synagogue
Cited Projects
Cited Architects, Engineers, and Others
There are no architects, engineers, or others linked to this record.
Location
Lloyd St


Baltimore, Baltimore (Independent City), MD




> View location in Google Maps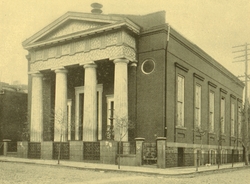 [Old Lloyd Street Synagogue]
Old Lloyd St. Synagogue
Local ID #: Blum-xliii
Blum, Isidor. The Jews of Baltimore: An Historical Summary of Their Progress and Status as Citizens of Baltimore from Early Days to the Year Nineteen Hundred and Ten. Baltimore: Historical Review Publishing Company, 1910., p. xliii
Baltimore Architecture Project | About | Feedback | Search | Login
Website and System: Copyright © 2023 by The Athenaeum of Philadelphia.
Data and Images: Copyright © 2023 by various contributing institutions. Used by permission.
All rights reserved.