Source Information
AIA/T-Square Yearbook, p. 175 (1923)
Project Information from this Source
Project name: Log Hut at Valley Forge
Project types: dwelling
Cited Projects
Cited Architects, Engineers, and Others
There are no architects, engineers, or others linked to this record.
Location
Valley Forge, Schuylkill Township, Chester County, PA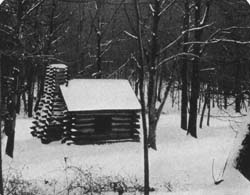 [Log Hut at Valley Forge]
(Wallace, Ph. B.)
AIA/T-Square Yearbook, p. 175 (1923)
Baltimore Architecture Project | About | Feedback | Search | Login
Website and System: Copyright © 2019 by The Athenaeum of Philadelphia.
Data and Images: Copyright © 2019 by various contributing institutions. Used by permission.
All rights reserved.